The Duff is about a high school senior who is desperate to reinvent herself as she finds out she is the Duff friend – designated ugly fat friend. So she enlists the help of jock to help her change her image and the way people think about her. So here are 10 films like this film.
Easy A
Olive (Emma Stone), a respectable and caring teen, tells a white lie about loosing her virginity to her best friend as really it has been pretty boring. When the school busybody (Amanda Bynes) overhears this, she tells everyone and suddenly, Olive becomes notorious around the campus. But for all the bad reasons.
Director: Will Gluck
Writer: Bert V. Royal
Stars: Emma Stone, Amanda Bynes, Penn Badgley
Can't Hardly Wait
Graduating High School is a great time, finally you can do things which you may have wanted to do for years. This is exactly what has happened with this entire graduate class. The whole class gets invited to a wealthy classmates house for a party, where each person has an individual objective. For Geek William, he plans to get back his high school bully Mike, whereas for Ethan he hopes to move in on his crush as he has admired her for years.
Directors: Harry Elfont, Deborah Kaplan
Writers: Deborah Kaplan, Harry Elfont
Stars: Jennifer Love Hewitt, Ethan Embry, Charlie Korsmo
Living in the African Jungle and being home schooled for the first 15 years of your life, means you will have no idea about high school. Well for Cady, her and her parents move to the suburbs of Illinois where she soon starts a public school. However Cady soon realises that there are tightly-knit cliques in high school and each one makes your social status. Although, she soon falls in to the plastics group who are the social elite of the school. But unsure whether or not to stay with them, she goes back to her first friends to ask what to do. Only is it when she falls for Regina's ex-boyfriend – the plastic leader- is that her intentions become to take her and her group down. Let the games commence.
Director: Mark Waters
Writers: Rosalind Wiseman (book), Tina Fey (screenplay)
Stars: Lindsay Lohan, Jonathan Bennett, Rachel McAdams
She's All That
At the top of his game, he is the envy of everyone around him, but when his cheerleader girlfriend leaves him for a sleazy reality TV show star his popularity dramatically decreases. To get it back he makes an outrageous bet, turn a nerdy outcast girl into prom queen in six weeks. First, he has to get her trust...
Director: Robert Iscove
Writer: R. Lee Fleming Jr.
Stars: Freddie Prinze Jr., Rachael Leigh Cook, Matthew Lillard
Napoleon Dynamite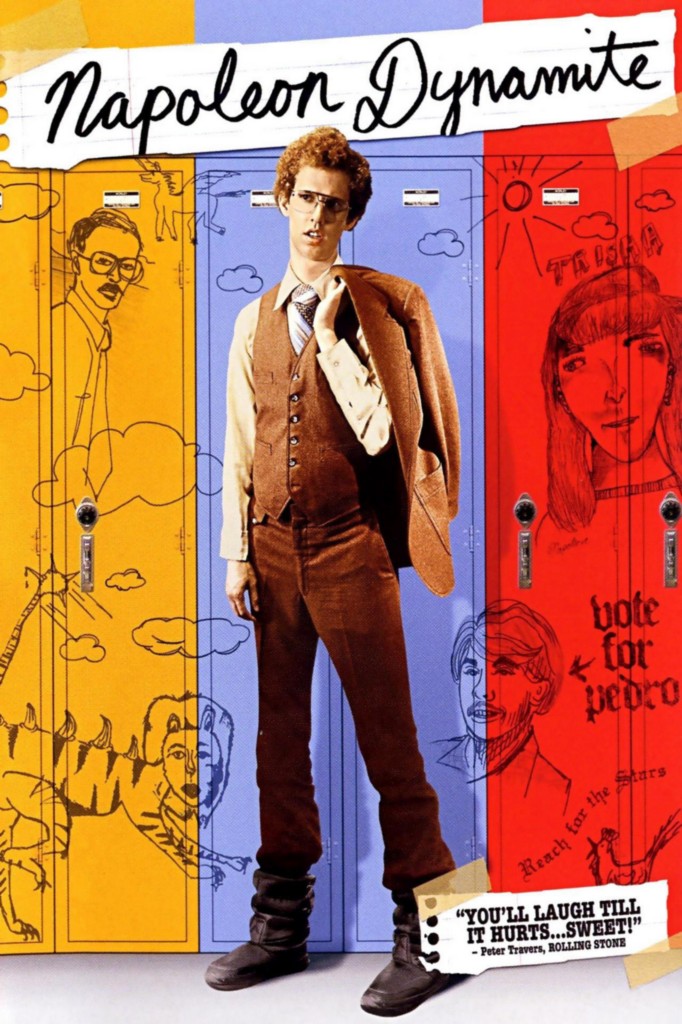 Sometimes teenagers don't fit in, and that is how Napoleon feels. Even worse, his uncle comes to look after his ill Nan so he has no safe haven to go to. But when a new kid – Pedro - arrives at his school, he tries to befriend him. Pedro is a sad, shy and glum Hispanic boy who speaks very little English. Together they try to run for class presidency with seriously bad outcomes. With a weird home life, and a weird school life there is no rest for Napoleon.
Director: Jared Hess
Writers: Jared Hess, Jerusha Hess
Stars: Jon Heder, Efren Ramirez, Jon Gries
Bring It On
For Torrance being the newly elected captain is an honour. With a national competition coming up, the cheer-leading squad is working hard to land the trophy for the sixth year in a row. But when Torrance discovers that the former captain stole the moves from the Clovers, a cheer-leading squad in East Compton, she must work hard to think of alternatives in such a short time period.
Director: Peyton Reed
Writer: Jessica Bendinger
Stars: Kirsten Dunst, Eliza Dushku, Jesse Bradford
The To Do List
Set in 1993, High school student Brandy Klark, decides she needs to reinvent herself as she doesn't like her image now. So before she heads off to college in the fall, she puts together a list of activities that she missed and needs to do – including sex. With a great challenge ahead of her, she decides she needs help so enlists her friends, older sister and boss. Completing it by September still won't be easy.
Director: Maggie Carey
Writer: Maggie Carey
Stars: Aubrey Plaza, Johnny Simmons, Bill Hader
John Tucker Must Die
After three girls realize they are all dating the same guy, they enlist the help of the new girl in town so they can set him up with her. As they can then watch him get his heart broken, and destroy his reputation at the same time.
Director: Betty Thomas
Writer: Jeff Lowell
Stars: Jesse Metcalfe, Ashanti, Arielle Kebbel, Brittany Snow, Sophia Bush
Clueless
Rich and socially successful Cher thinks of herself as a matchmaker. First coaxing two teachers into dating each other, then the new girl at school who she gives a makeover to. However, she eventually becomes more popular than Cher who doesn't like it. Cher finally realizes that her ex-stepbrother was right about her being misguided and weirdly falls in love with him.
Director: Amy Heckerling
Writer: Amy Heckerling
Stars: Alicia Silverstone, Stacey Dash, Brittany Murphy
The House Bunny
Playboy bunny Shelly lives comfortably at the playboy mansion until a jealous rival gets her kicked out. After looking for work, she eventually becomes the house mother for Zeta Alpha Zeta sorority which is full of socially awkward girls. Although their house is under threat, if they don't get more pledges it is gone. So Shelly teaches the girls makeup and men in an attempt to save the house.
Director: Fred Wolf
Writers: Karen McCullah, Kirsten Smith
Stars: Anna Faris, Colin Hanks, Emma Stone