All of these DSLR cameras are in no particular order but the first three are probably the best from each respective brand. The prices that I state are correct at the time of writing but they may change by the time you're reading this. You can view these cameras on
Amazon
where you can see user reviews of them and more specs, so you can make sure you are buying the correct camera for you.
[caption id="" align="aligncenter" width="323"]
Nikon D3300[/caption]
This is probably the best DSLR that you can get for beginners right now. Featuring a 24.2 megapixel CMOS sensor, 3 inch LCD screen, 5 fps continuous shooting speed and 1080p video recording at 50/60 fps this is a beast of a camera for the price. The specs may seem overwhelming and leave you wondering how it is a beginner camera, but with all of those features comes guide mode which does exactly what it says. It guides you to selecting the best setting for you to use to get the image you want. Out of all of these DSLR's, I would say this is the strongest contender for the best beginner DSLR.
An optional feature is the wireless sharing of photos. To do this, you will need to get a wireless adapter to plug into the camera. These are usually £30-£50.
[caption id="" align="aligncenter" width="601"]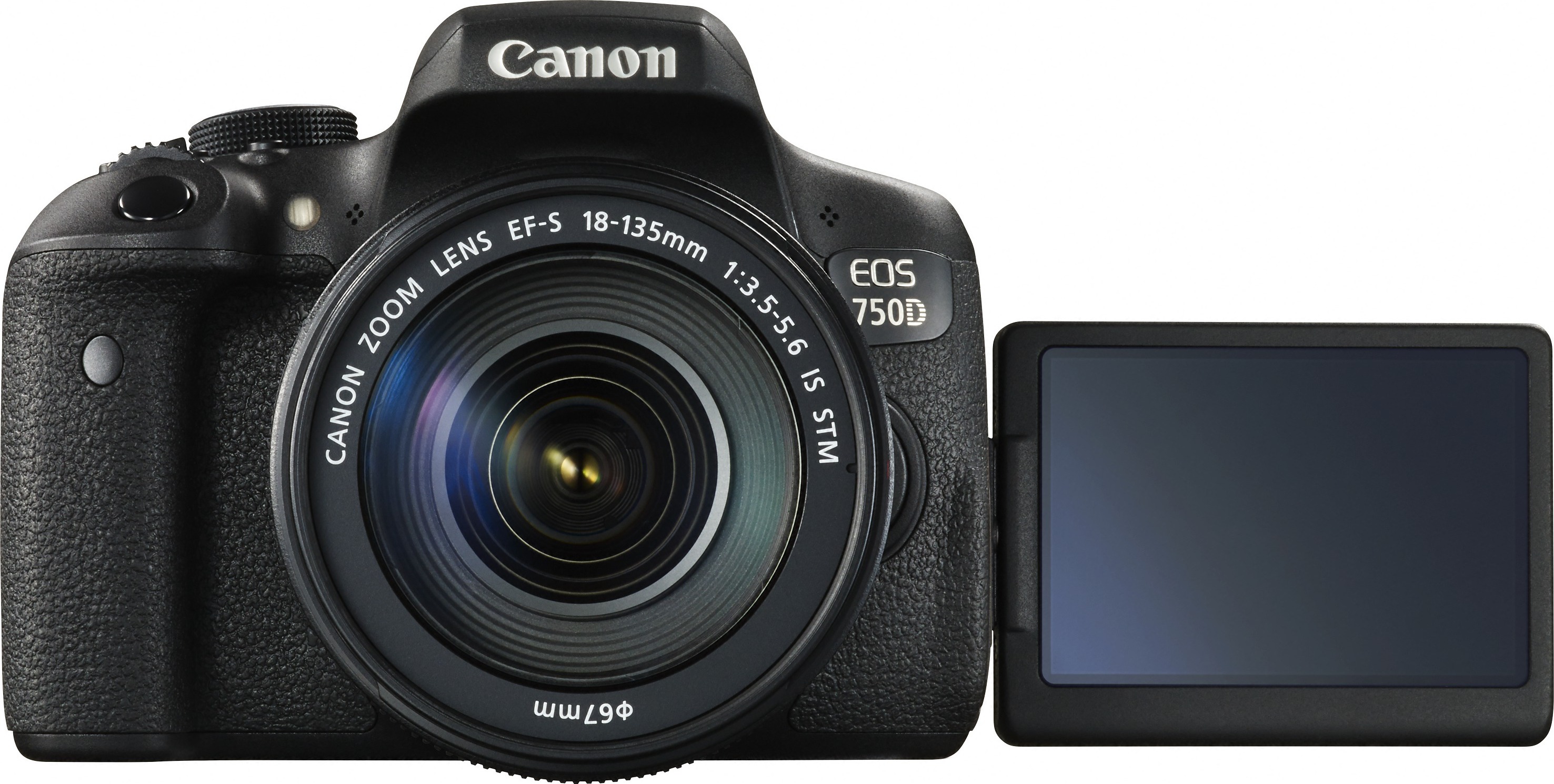 Canon EOS 750D[/caption]
With a 24.2 megapixel APS-C CMOS sensor, this camera is the Nikon D3300's rival. This is probably the best beginner DSLR from Canon at the moment. It's not hard to see why. It has a terrific sensor and can shoot at 5 fps. Also with Wi-Fi with NFC pairing, it has never been easier to transfer photos and videos. Moreover, with videos it can shoot at 1080p and it has an articulating screen so you can face it towards you whilst standing in front of the camera recording yourself. A cool feature that this camera has over most others, is that you can connect to it with your smart phone and take photos remotely. That's cool!
[caption id="" align="aligncenter" width="590"]
Pentax K-S2[/caption]
This camera is quite pricey, but its features make up for that. It has a 21 megapixel sensor, HD recording at 30 fps, 100 protection joints to protect it from the weather and built in Wi-Fi and NFC compatibility. It may not sound like much, but it is and is a good deal for the price. It would be great if it was £100 cheaper, but you still get a lot of options and insanely good image quality in the DSLR. It also has a Vari-Angle LCD monitor for easy use, so you could hold it up over a crowd and still see what you're taking a picture of. One feature that may be useful is its ability to form a single image from 2 shots to 2000 shots! 2000 shots in a single image is mad! You can do it, but I highly doubt you ever will.
[caption id="" align="aligncenter" width="380"]
Nikon D3200[/caption]
This camera used to be the best entry level DSLR camera from Nikon until the D3300 came out. It is still a brilliant camera and has great specs for the price as it is a lot cheaper than the D3300. This camera boasts 24.2 megapixel CMOS sensor for the greatest of quality photos. Also with 1080p recording available at 30fps, it seems like this camera will suit most people's needs. As this is an entry level camera, it has a helpful feature called guide mode, which allows the user to select the best settings in the conditions they are in if they go into the menu. Instead of guessing what settings to use, select what conditions you are in, in guide-mode and let the camera do the work for you.
You can also edit photos with the camera, but these functions are limited. Additionally, you can share images with devices such as smart phones and tablets with an optional WU-1a wireless adapter. This costs anywhere from £30 - £50 depending on the website. If you like the ease of transferring things via wireless, it may be a good idea to get one. For me, I would save the £30 and transfer the photos normally as I don't mind using wires.
[caption id="" align="aligncenter" width="465"]
Canon EOS 100D[/caption]
This is a great camera as it is really light and smaller than most others. For that reason, it is easier to handle and take to more places. At 18 Megapixel photos and HD video recording, it is a decent camera still, just has a lower amount of megapixels than the Nikon D3200. Although it has less, the image quality is still superb and the camera has a handy function with Scene Intelligence Auto which sets the camera to the correct settings for the conditions automatically so your photos will always be the best.
If ease of use is your worry, then you don't have to worry with this camera as it has a large touch-screen. Also if you like applying filters to photos, then this camera has built in filters that you can apply instantly and also a video clip editor. Overall, it is a great camera for beginners.
[caption id="" align="aligncenter" width="384"]
Nikon D5300[/caption]
At 24.2 megapixels, this camera seems no different to the others, but its 24.2 megapixel CMOS sensor has no optical low pass filter, which means you get superior quality and resolution compared to other cameras. The Nikon D5500 has since replaced it, but this is still a very good camera. It has a 3.2 inch screen and can share photos via wireless as it is enabled in this camera. Furthermore, if you want to know where you took those award winning shots, it has GPS built in so you can track where you took them. I'm not sure whether that is a useful feature, but it might be for some people. It is still reasonably priced for the camera it is, and it is even used by some enthusiasts. That's how good it is.
[caption id="" align="aligncenter" width="604"]
Canon EOS 700D[/caption]
This camera is a little outdated now due to the 18 megapixel Hybrid CMOS AF sensor it has, but it is still fairly decent. This camera also includes Canon's scene intelligence auto so it can automatically select the correct settings for you, so if you have no idea what you're doing don't worry! What's interesting about this camera though, is that even though it has been replaced by a newer version it can still shoot 5fps for 22 shots, which rivals some of the newer cameras. If you fancy yourself as a bit of a video maker, this camera has the ability to shoot in HD and you can plug in an external microphone to capture quality sound or even use the built in microphone.
[caption id="" align="aligncenter" width="426"]
Pentax K-50[/caption]
This is probably a brand not heard of by most people, well I didn't know of them before I delved into the world of cameras. Only having a 16 megapixel CMOS AP-C sensor may seem like a bit of a worry for most, as these other cameras have 24.2 megapixels or 18 megapixels. But this is not a drawback as the images are just as good with Pentax's technology. If you want to capture a moment instantly, then this is the camera for you as the shutter speed goes up to 1/6000 sec, which easily freezes an entire scene. Also this camera can shoot at 6fps for action shots or just to get the right picture. That is 1-2 fps more than most other cameras at this price range. Finally for extra protection, it has 81 protection seals to protect it against splashing water, sand and other things that could damage the electronics. Although I still wouldn't take it out in heavy downpours!
[caption id="" align="aligncenter" width="530"]
Canon EOS 1200D[/caption]
With an 18 megapixel APS-C sized CMOS sensor it is a decent camera for the price it is currently at (£250 or $350) but the sensor technology is a bit outdated hence the price. It has a 3inch screen which is good, but it can only shoot photos at 3fps, which is low compared to any other DSLR. This is alright for a cheap price, but it isn't a brilliant camera. My advice, spend £100 more and get a newer model. Still, it is alright for capturing images for most beginners but not for more advanced beginners.
Here are 5 photography tips to help you take great shots with your camera.