Here is a collection of games that are like DayZ. Whether they are zombie survival games or shoot them up style games, they are all worth a play. In no particular order, here is the first game:
H1Z1
This is probably the most alike game you're going to get to DayZ. It has all the lements that DayZ has, such as PVP and PVE. What's fun about this game is that they host a game mode called battle royale, where you have to survive and kill other players to become the only person left to win the game. But a toxic cloud is following you, so you have to get into the safe zones to avoid being killed by the toxic gas. Also their survival mode is a lot like DayZ as you have to run and kill zombies, whilst watching out for other players. This is probably the best game to play if you want a game like DayZ.
Project Zomboid
This isometric style game is a zombie sandbox survival game, where you have to collect food, water and other things to survive against the hordes of infected. This game is hardcore though, so it is certainly a challenge but a fun one. Farming, fishing and building forts to survive the infected seems like it would be boring, but it is quite surprising how much you loose yourself in the game. It is a great indie game and worth a play.
Left 4 Dead 2
This is your typical shoot em up zombie game, where you literally shoot hordes and hordes of zombies to get to the safe room at the end of the level. There are quite a few levels that are fun to play and with a range of zombies and mutant zombies, it is challenging to get to the end. On PC, a fun thing to do is to use any of the vast selection of mods to make the game more enjoyable either by making the zombies look like something else, or changing the weapons. So if you like to shoot zombies, this game is for you.
The Dead Linger
This game is still in early access, so it is still a work in progress, but so far it looks good. This is a zombie apocalypse horror game with sandbox mode, free-roam gameplay and multiplayer gameplay. You have to gather and run to survive against the infected like DayZ. However, this game has recently had a lot of negative reviews so read the reviews to see whether you want to play it. For now, you might want to stay away if you don't want to face all the bugs. But if not, then give it a shot and see if you like it.
State Of Decay: Year One Survival Edition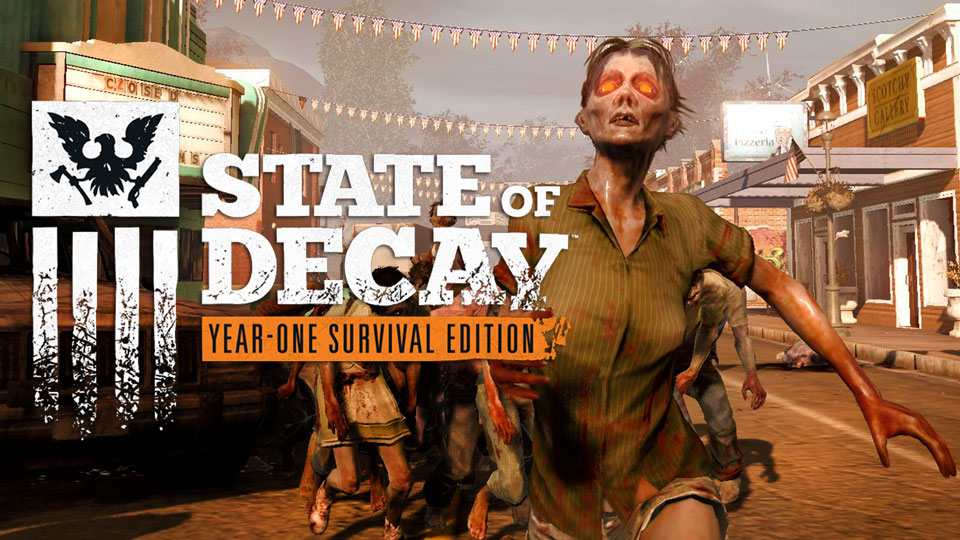 This is a remastered version of the old State Of Decay game, that now sees the game in 1080p along with more missions and content. Again, this game is a zombie survival game where you can build a base and have to gather supplies to survive, but that is what you want if you want a game like DayZ right? This is a impressive game to play, if you like your zombie survival games as it looks stunning and the content is great. However, the content for the game does start to thin out as you complete more missions obviously, but it has at least a good 30 hour play time before that happens.
Rust
This is yet another survival game, where there has been a nuclear explosion so you have to watch out that you don't expose yourself to too much radiation whilst gathering supplies. This is when you need to build a shelter and actually go hunting for meat to survive, as unlike DayZ it is an actual survival as you can't gather much loot. Also you will have to watch out for established players, as they might already have weapons like guns, and they will take all of your stuff.
Don't Starve
This is a cool survival game as it is full of fantasy and magic. You have to learn how to use items in the different environments you encounter to progress through the world. To me, this game looks cool. It has simple sketchbook style graphics which don't look cheap at all, so it is nice. So strictly speaking, it may not be a zombie game or relate to DayZ very well, but it is a survival game and it looks good and plays good so for that it deserves a recommendation.
Dead State
This is a very cool looking survival RPG game that is set in the post apocalyptic state of Texas, right in the middle. This game has recently been remastered, so a lot of bugs have been fixed and new items/objects have been added. Essentially, your objective is to gather supplies and survive, but there is a story line to this game and interesting features with the combat system.
Dead Rising 3
Want fun when killing zombies? Then this is the game for you. Featuring a large open map rammed full of zombies, you can use nearly anything as a weapon. What's fun is just using all of the different things to kill literally hundreds of zombies as some weapons have unique abilities. Also with a storyline along side to the game, it has a bit of substance for when you want to play it. It is locked to 30fps on PC though, but on console that doesn't matter as much. Still it is an amazing game.
Killing Floor
Killing Floor is a co-op fps game, where you just shoot the zombies that come to you in waves. There are many weapons you can use, and the game is quite challenging, but I think left 4 dead 2 is better for shooting a load of zombies just because there is an actual objective in sight. You can still beat a level in Killing Floor by surviving all the waves, but why not be on a mission instead and moving through a map trying to reach the safe room on the other end?
Here is a list of 20 games like minecraft.